New West Indies white-ball head coach Daren Sammy has hit back at critics of his hiring as coach.
Sammy, a former West Indies captain who led the regional side to World T20 triumphs in 2012 and 2016, was hired earlier this month as coach of the West Indies ODI and T20I sides despite not having a level 3 coaching certificate.
The former all-rounder previously coached Pakistan Super League (PSL) outfit Peshawar Zalmi in 2020 and 2021 before returning for the 2023 season. He also coached the St. Lucia Kings in the 2022 Caribbean Premier League (CPL).
Despite this, critics have said his hiring as Windies head coach sets a bad precedent but the 39-year-old says he is "blocking out the noise" and focusing on the task at hand, returning the West Indies back to the top of the white-ball game.
"I've made it known; coaching was not something I aspired to do during my playing days but it's a role that actually chose me. I'm a work in progress. I am aware of all those things," Sammy said during a press conference on Friday.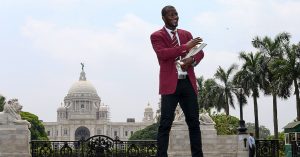 "I understand the challenges ahead of me but I also believe in the impact and the effect that I could have on this generation right now and I will not let my lack of a certificate stop me from taking on the challenges that I know that I'm equipped to handle," Sammy added before clarifying that he has, in fact, began the process of attaining the certificate.
"I have already started the process to be certified and, during that process, working with the West Indies team, working with further developing myself as a coach in terms of the qualifications needed," he said.
"Don't think for one minute that I will ever question myself that I'm not fit to do this job," Sammy added.
His first two assignments will come next month when the West Indies battle the UAE in three ODIs from June 4-9 before they head to Zimbabwe to take part in the ICC World Cup Qualifiers from June 18-July 9. (Sportsmax)