By Brandon Corlette
Guyana and West Indies player Kevin Sinclair has been in good form in recent times, with both bat and ball, especially in First-Class cricket. The hard-working and motivated player – who is fresh from his third First-Class five-wicket haul, which came against Bangladesh A – credited former Guyana Head Coach Esuan Crandon.
In an interview with the media on Sunday, Sinclair also spoke about what he WAS looking forward to achieve during the upcoming One-Day International (ODI) tour against the United Arab Emirates (UAE), and he spoke about the knowledge he gained from legendary Jamaican left-arm spinner Nikita Miller.
"Well, for me, it is always about self-belief and believing in my ability. I never keep myself down. I get that confident and bring whatever energy I get to the session. I want to say Esuan Crandon, the former Coach with the Guyana Harpy Eagles team. He is always on me, telling me that I can bat and I can be one of the best all-rounders. I just want to say to the media today that he is one of those individuals that's behind me in terms of where I am at now, and giving me that confidence in terms of whenever I go out there. He always tells me to believe in my abilities.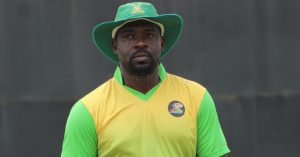 "For me, it is basically it is just my hard work and dedication to the game. A lot (of work) has been put in my batting. It is just simple, whenever I come out from the Academy or the Guyana training session, it is what I do after, so the extra work I have been putting in has paid off right now," Sinclair said.
He is also aiming to put in some good performances to seal a spot on the West Indies team at the upcoming ODI World Cup. The off-spinner also noted that he was aiming to back up performances, as he did during his last series against New Zealand.
"I am grateful to CWI, because during the Headley Weekes Tri Series, they had Nikita Miller who told me a lot about my bowling, and using the crease," Sinclair said.
When asked about the conditions on his first tour to Bangladesh, Sinclair said: "Overall, the conditions are quite similar to Guyana, which is a bit slow.
Surprisingly, the groundsmen shared some info on the preparation of the pitch suited for fast bowling. It is not much for spinners: until the game goes on, it spins. The wicket has a bit of grass for it. It has been really good, and I am really enjoying it and I cannot ask for a better exposure than this, so I am looking to grab (my opportunity) with both hands."
The Berbician is aiming to do great things for the West Indies senior team. "For me, getting another chance to represent the West Indies in the 50-over is a great feeling for me. It is something that I really want to do since I am small. Getting another opportunity to do that is really special in my heart. In terms of goals, I do not set a lot of goals to pressure myself," Sinclair said. (GTimes)