Noted Sport Journalist Brandon Corlette has made a remarkable comeback during his Bachelor of Social Science Communication Studies journey, at the University of Guyana (UG).
The 23-year-old started his final years of his UG journey with a Grade Point Average (GPA) of 2.6, and by the end of the degree program, he graduated with a GPA of 3.4 to secure a Pass with Distinction.
Corlette, a former senior sport journalist at Guyana Times, where he worked for five years, is a known public figure to at least 50 percent of the cricketing population in Guyana, and to an extent, the Caribbean.
The young Berbician, Corlette, who is the founder of the trusted cricket website and page; Cricnation592, shared his journey and spoke about how he balanced traveling to different countries to cover cricket and attend UG simultaneously.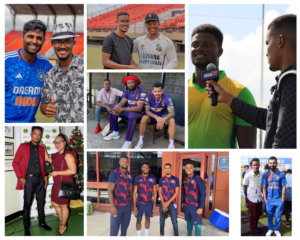 "Attending the University of Guyana was a challenge by itself, and for me, I had to balance work, and my cricket store (Cricnation592 Store) while getting my GPA up. I even wanted to drop out before my Diploma."
"The first two years was difficult for me, I could not balance covering cricket and being prompt for classes. I have an issue, in remembering dates, and I missed a lot of deadlines at UG. But I must say, in addition to my family who supported me and the patient lectures at UG, I had that one friend that always reminded me about deadlines. She was there for me, and she was the most genuine person I met on campus."
Corlette highlighted that the Covid-19 was a fruitful period for him, as he was able to fulfill his dream, in owning, opening and operating a cricket equipment store in Berbice. That meant classes switched to online, and Corlette returned to Berbice to live and finish his degree online.
"After the pandemic, classes continued online, and I saw that as an opportunity to cover cricket in different countries, regionally and internationally. I went to Trinidad, Barbados, Grenada, Antigua, Florida, and St Lucia, while being present in my online classes," Corlette added.
Now equipped with a Bachelor's Degree, the 23-year-old, is aiming to expand his journalism career.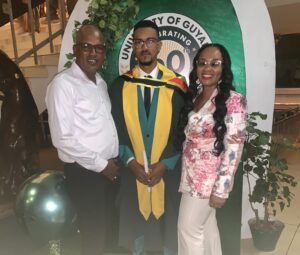 "I am now seeking to do more traveling in journalism. Working with different high-profile cricket institutions is at the top of my agenda. Cricket is growing in the USA and I would relish an opportunity over there as well, working as a sport journalist and a commentator," Corlette said.
"Nothing is impossible, you can make that comeback in your academic journey once you are discipline. It is all about balance," the young Journalist said.
In addition to being a sport journalist, Corlette specializes in content creation; sport photography, graphic design, video editing and more; all of the knowledge he acquired at the University of Guyana.